Bazan - the brickwork must be declared a dangerous structure to be completely destroyed
Bezan: The "construction" must be declared a dangerous building in order to be completely destroyed
This is one of the two historic chimneys of the refineries in Haifa Bay, which partially collapsed a month ago; Now the company is turning to the municipality to guide it regarding an initiated and planned demolition; This is after receiving an opinion regarding the danger posed by the building and the possibility of another unplanned collapse
Lior Gutman - 17:4023.07.20
The Refineries Company (BaZN) appealed to the Haifa Municipality with a demand to completely demolish the "Livnia" building that collapsed last month in Haifa Bay. According to the company, it is a dangerous building, and this requires an initiated and planned demolition.
The Bezan Group turned to the Haifa Municipality with the findings, requesting that the building be declared dangerous and that it urgently receive instructions for the demolition of what remains of it.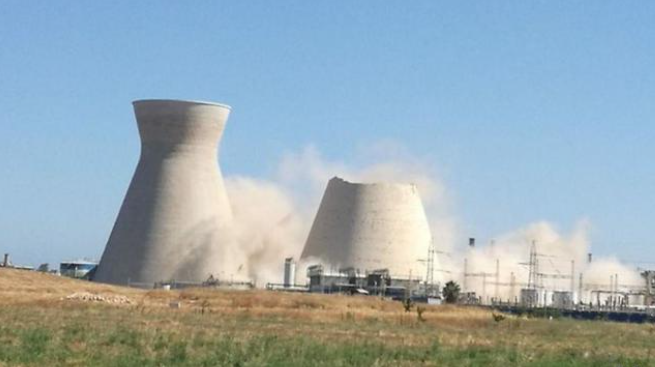 The collapse of the building - photo: Ihud Hatzla barges
The "Livnia" was one of the two historical water cooling towers of the refineries, which have been inactive for over a decade. Bezan asked to get an opinion from the company "Yron Ofir Engineers", which specializes in building engineering, rehabilitation and strengthening against earthquakes, and later also from Prof. Constantine (Costa) Kobler, a researcher and concrete expert from the Technion's National Construction Research Institute.
According to Bezan, the two opinions state that in light of the physical condition of the building and the manner in which it collapsed, the remaining part is unstable and in danger of collapsing. The experts' recommendation is to destroy the rest of the building immediately, in a proactive and planned manner, in order to prevent another unplanned collapse.
"The experts point out in the opinion, that it is not possible to restore the building," they claim there. CEO Moshe Kaplinsky concludes that "the collapse of the 'Livnia' is a difficult event that we all feel pain about. It is a historical and symbolic building, which for many of us was the landscape we grew up on. However, in light of the unequivocal findings that emerge from the opinion, it is clear to the management of BaZen - with great regret - that quick steps must be taken to prevent further collapse in an unsafe manner."
---
Link to the article
https://www.calcalist.co.il/local/articles/0,7340,L-3841290,00.html
---